VIP sightseeing tour through Berlin
VIP sightseeing tour Berlin – Berlin Sightseeing
VIP city tour in a Mercedes S-Class incl. City guide
This tour is for people who want to afford it and can very well kept and relaxing, away from the normal mass tourism, Berlin, to meet you.
Enjoy on your VIP tour through Berlin the luxury you are used to from home or they have developed themselves by indulging want.
You drive, comfortable and air conditioned, in a luxury vehicle, the Mercedes S-Class the best-known or desired sights of Berlin.
Our proven tour they see not only the most famous sights of Berlin and West Berlin but we also take a trip to the deprived areas on Kottbuser gate and the Sonnenallee.
Here you can experience the social gap and the inglorious places from the news live.
VIP sightseeing tour Berlin incl. Chauffeur and city guide
Your driver is also your guide . The route starts usually at your hotel or your desired destination and then leads to your desired sights of Berlin. The known landmark of the city may be or personal goals that you want to visit.
You want to go stop shopping or eating? No problem. You want to get to see a sight more accurate? No problem. Or do you want a glass of champagne on the way? No problem. Just tell us humble – if need be spontaneous.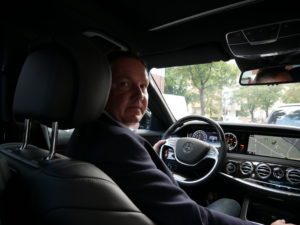 Special requests are no problem. Do not hesitate to perform it. We will meet this whenever possible.
The maximum capacity of our luxury-travel show is three people. More comfortable to sit but if you visit only two of Berlin in our limousines. If you between four and seven people be they can alternatively book our very comfortable Mercedes V-Class. It can be transported up to seven people.
Bottom line: If you are used to luxury or want to create an exceptional experience for your Berlin trip if you want to experience Berlin individually and to still want to learn expert explanations, stories and anecdotes about your holiday destination – if you want to pamper yourself, then book our VIP Sightseeing service.
By the way our city tours last an average of about 2.5 hours.
Your VIP city tour Berlin they can book here: