City tour "Unter den Linden"
City tour "Unter den Linden"  – a walking tour from Alexanderplatz to the Potsdamer Platz
City tour "Unter den Linden" – the new center
City tour "Unter den Linden" or guided tour of the new and old "East Berlin"
Our city tour "Unter den Linden" always begins not far from Alexanderplatz, the Nikolai Quarter, the cradle and the oldest quarter of Berlin.
From there you go on the spree for new, old city palace that originally was not only the home of the fabled Amber Room but also the residence lap of the Prussian kings and emperors.
City tour "Unter den Linden"
On the other hand, we will visit the Berliner Dom, the Lustgarten and the "Old Museum".
From there it goes over the Spree and the boulevard "Unter den Linden" past the Opera, Bebelplatz and the Humboldt University Gendarmenmarkt direction.
The Gendarmenmarkt, for many the most beautiful square in Europe with the German and French Cathedral and the Concert Hall every season is a popular and worthwhile goal.
Then let's take a look at, of course, the Brandenburg Gate, the Adlon Hotel and the embassies of the victorious powers of World War II.
is the Potsdamer Platz including the Sony Center, the revived today as a century ago – last stop, passing the Holocaust memorial and Tiergarten.. Here you can breathe the flair of a cosmopolitan city between modern skyscrapers and fancy hotels.
City tour "Unter den Linden" at night or darkness
By the way, we can do in the dark this tour. All relevant buildings are mostly beautifully illuminated.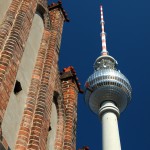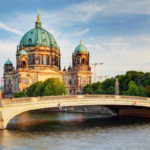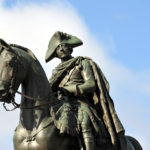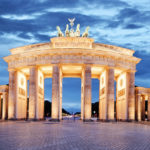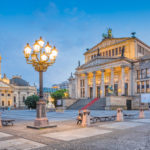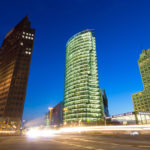 City tour Berlin Mitte – we'll see:
Television Tower + Alexanderplatz + Red Town Hall
Nikolai quarter
Stadtschloß + + Lustgarten Berlin Cathedral Museum Island +
"Unter den Linden" incl. Highlights of the Prussian-German history. Here, each building has its own history.
Gendarmenmarkt
Brandenburg Gate
Holocaust Memorial
Potsdamer Platz + Wall
Sony Center
City tour "Unter den Linden" / Berlin's new center – the emblem
Visit on your guided tour through Berlin's new center is the symbol of Berlin, which were built during the time of partition or as a memorial reminiscent of the time.
There is, for example, the TV tower, which opened in 1969 and is the tallest structure in Germany. In 203 meters there is a viewing platform, you can enjoy fantastic views over Berlin from which in good weather. Even higher, is at 207 meters, the the TV tower, where you can just drink a cup of coffee dine restaurant.
City tour Berlin Mitte – Potsdamer Platz
Already in the 1920s, Potsdamer Platz was one of the busiest squares in Europe. In the 1990s, a modern city center with many shops, restaurants and cafes here arose. Politically significant was the Potsdamer Platz in the former GDR, because here was the Wall, so that the space could not be built.
You will be happy to provide further landmark East Berlin from your city guide / your city guide recommend that you can visit during your city tour East Berlin.
You can make your booking request: