Berlin in 60 minutes – Old center
City tour Berlin – in 60 minutes from the Brandenburg Gate to the New City Palace
City tour Berlin
"Unter den Linden" from the Brandenburg Gate to the City Palace – City Tour Berlin
who want to see as much as possible of Berlin in a short time our second tour for all visitors to Berlin. In 60 minutes we walk from the Brandenburg Gate along the Berlin boulevard "Unter den Linden" to the new city palace. From there you have a clear view on the Alexanderplatz with the TV tower and Nikolai Viertel, the cradle of Berlin.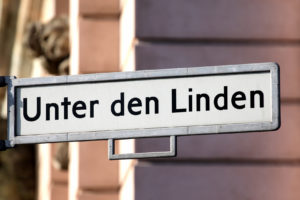 What she expects:
Well-educated as with all our tours, certified city guide that will give you not only historical knowledge and anecdotes, but also pack a big boost Berliner humor in the guide so that you get certainly an unforgettable experience.
What you will see:
Brandenburg Gate
Pariser Platz + + Adlon embassies of the victorious powers
Friedrichstrasse + former border crossing Friedrichstrasse
Boulevard "Unter den Linden"
Statue of Frederick the Great before the Prussian State Library
Humboldt University + Bebelplatz (book burning) + St. Hedwig
State Opera
New Guard + Crown Prince & Kronprinzessinnen Palais
Armory + house of the Commandant
Museum Island Lustgarten +
Berlin Cathedral
New City Palace
Television tower
City tour Berlin
Treat yourself under expert guidance an insight into Berlin's historic center. Almost three kilometers on foot to show you more than if you drive past a bus within seconds to the sights, or having alighting and then not have a city guide that tells you what there is to see.
learn middle 60 minutes Berlin
threatens to diminish their attention after sixty minutes the ideals Tour, not only for those who have little time or just want to see a part of Berlin but also for all tourists with children or teenagers. also ideal for the elderly or wheelchair users!
Try our Berlin Quickie
Sixty minutes of fun and information for only ten euros! A very inexpensive delight to Berlin to learn or know little bit better.
Our guarantee:
We only with trained tour guides, no part-time employees, no foreign students, not professionals.
We do not necessary to give a tip!
Berlin humor there nothing to it.