Curry sausage & Ku'damm
Curry sausage & Sightseeing Berlin
Take part in our almost legendary currywurst tour of West Berlin and enjoy all the charms of the city's world-famous Berliner currywurst!
City tour around the Kurfürstendamm – including sausage tasting at two of the most famous sausage stalls in the city: Curry 36 and Bier's Kudamm 195th
Currywurst tour Berlin – city tour Kurfürstendamm
Experience with your city guide to West Berlin charm and taste true Berliner currywurst!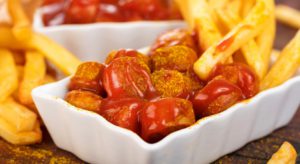 With our currywurst Tour Berlin, we want to kill several birds with one stone.
Currywurst Tour Berlin
Currywurst Tour Berlin
On the one hand we want to bring the flavor of old and cozy West Berlin around the Kurfürstendamm, the Memorial Church and the Zoo station closer to you and to the other the seriousness of a classic city tour, the panting history nuisance of a historic place to another avoid.
Therefore, we can stroll, at your own pace, from the traditional KaDeWe the west and strengthen us for the first time with an original Berlin Currywurst few hundred meters overlooking the Memorial Church.
We will try to West Berlin the old charm breathing, the feel of the 20s to reconstruct, but also the fear after zwoten World War and the blockade by the Russians. All accompanied by stories and anecdotes from the respective time.
City walk Kurfürstendamm + Curry sausage Tour Berlin
But of course you will not only historical but out the aim of the tour is to be just as tired and have fun. To achieve this goal, we still stop at two of the most famous Berlin Currywurst booths namely at the Zoo station in the settlement of Curry 36 and am Kudamm 195 in Bier's currywurst. The single Currywurstbude the world that is not given way to complete construction of a new road row and have already enjoyed where a plethora of celebrities, to actress, politicians and Berlin tourists with champagne and currywurst a joyous time.
Since we are on foot and we watch you can on your sausages and swallow with one or two beers like.
The aim is that are you really good at this evening or this afternoon. That you feel like a real Berliner – free and carefree whatever is happening around you.
Currywurst Tour Berlin – you see:
KaDeWe – Europe Center and bikini window – Memorial Church and the new Upper West Side – Bahnhof Zoo – Zoo – Theater of the West – Kudamm
Go deeper with a walking tour of West Berlin in the city and its flair one.
City guide West Berlin – Olympic Stadium guided tour West Berlin – Charlottenburg Palace Schloss Bellevue. Presidential palace, Berlin, Germany Brandenburg Gate, Berlin, Germany – panorama city tour gang Kurfürstendamm – KaDeWeStadtrundgang Kurfürstendamm in Berlin Tourist
Curry sausage Tour Berlin – that's including:
3 times 2 currywurst (with or without casing) with rolls
3 times beer or soft drink
about 3 hours guided tour of a city guide
explanations and stories about Berlin currywurst
PS Our tour usually ends with a few beers in funny round on Kudamm – Open End